The day you figure out that the reason your profile page of LJ takes forever to load is because of the amount of pictures you have on there, is the day that you need to make an awards entry. XD This post is updated frequently.
Anway, I apologize for anyone that has dial-up/a slow internet connection. Truly.

Many thanks to all the wonderful people who made the wonderful banners. You all rock. :D

Updated: 8 June, 2008.

*Roll over the icon (on the left) to see what it placed in the contest, and roll over the banner (on the right) to see the week and theme.

Placements:
First Place: 73
Second Place: 58
Third Place: 53
Extra Categories: 67
Placed Total: 251 times

Extra awards on [the other post]!



clamp_bishounen



Week 9 - Image Theme


Week 12 - Image Theme 2


Week 30 - Rain




clamp_visual













Week 38; Seiichirou Aoki (Base A)


Week 38; Rosemary (Base B)


Week 40; Yuzuriha Nekoi (Base A)





Week 44; Eagle Vision (Base B)


Week 46; Tomoyo Daidouji (Base B)


Week 47; Kigai Yuuto (Base A)


Week 49; Nataku (Base A)

Week 49; Yuuki Ajiadou (Base B)


Week 50; Sakura's Staff (Base A)




Week 56; Wrath - Seishirou Sakurazuka & Hokuto Sumeragi


Week 58; Envy - Kouryuu



Week 64; Gluttony - Mokona Modoki


Week 76; Green - Seichirou Aoki


Week 82; Suu (Base A)




khr_icontest

Week 01 - Celebration


Week 04 - Willpower




ouranhostawards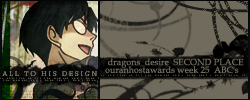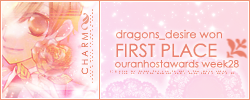 Week 30 - Ouran Award Game


Week 30 - Ouran Award Game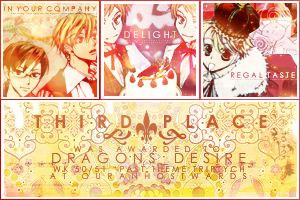 Week 60 - The Seven Virtues


Week 62 - Haruhi

Week 63 - Grace


Week 63 - Grace


Week 64 - Free for All




tsubasa_awards














































Week 56 - Red




Week 63 - Body


Week 64 - Lyrical 5


Week 67 - Japanese




Week 72 - Textless Deux



Week 82 - Free Choice 2






Challenge: Five Elements


Challenge: Silhouette

Challenge: Sepia




x1999icontest

Week 5 - Least Favourite Characters







Week 20 - Blood


Week 23 - Luck




xxxholic_still